The first floor-supported folding glass wall system to achieve STC 45 
levels of noise reduction for interiors will be on display in Las Vegas 
NanaWall Systems, the pioneer of the opening glass wall category, will showcase its opening glass wall systems at the AIA Conference on Architecture in Las Vegas, June 6-9 in booth 4925. AcoustiFOLD™—the industry's first floor-supported folding glass wall that is able to achieve up to STC 45 for commercial settings and interior spaces—will be making its AIA debut on display during the tradeshow.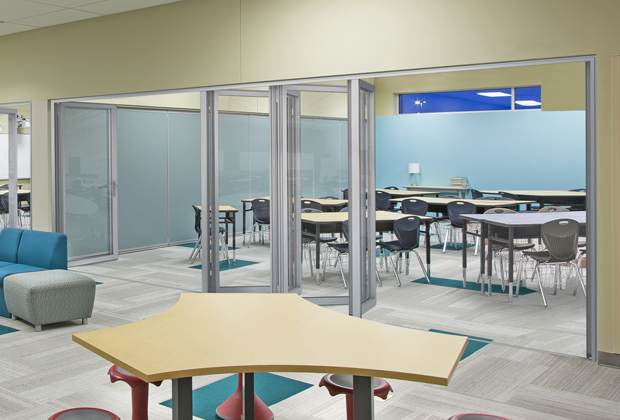 "Our opening glass walls give architects the solution they need to create a space that offers both acoustic privacy and design flexibility without sacrificing natural daylight," said Ebrahim Nana, CEO of NanaWall Systems. "The new NanaWall AcoustiFOLD provides architects and designers with a folding glass wall system that has unrivaled sound reduction to improve educational, commercial and other interior spaces."
NanaWall AcoustiFOLD combines sleek acoustically separated aluminum framing and specialized gasketing with sound-enhanced glass to achieve optimal performance and unprecedented levels of external noise reduction. While many spaces that require acoustic privacy used to rely on immovable walls, AcoustiFOLD achieves a range from STC 35 up to STC 45 due to NanaWall's engineering. The minimal surface mounted flush sill is ADA compliant and when installed with finished flooring has a minimal 15/16″ (23.5 mm) of track exposed.
NanaWall will be displaying several glass wall systems on the show floor, including:
cero® by NanaWall: Cero makes its West Coast debut on display at AIA 2019 in Las Vegas for the first time. This opening glass wall not only achieves an STC 43 sound rating for interiors, but its ADA compliant Flush Sill is the shallowest available in the large panel minimal sliding glass wall category, making it optimal for interior construction.
ClimaCLEAR™: NanaWall ClimaCLEAR is the only frameless all-glass individual panel sliding system specifically engineered for transparent weather protection. When the system is closed, the seals virtually disappear from sight, allowing for maximum transparency with no vertical stiles, providing natural daylight, open views, and a clean modern appearance.
For more information about NanaWall and its products, please visit bit.ly/NanaWallArchitects.
About NanaWall Systems
For over 30 years, NanaWall Systems has pioneered the category of opening glass wall systems. The company has earned the trust of architects, builders, design professionals and homeowners as a custom solution for re-imagining how buildings, people and the elements interact. By combining precision engineering and outstanding design options throughout more than 25 unique award-winning systems, NanaWall Systems advances design possibilities beyond the conventional for almost any space. NanaWall Systems is headquartered in the San Francisco Bay Area with 25 showroom and design studio locations across North America.
Press Release for www.sustainabilityactive.com
Source: Luis D. Sosa, Merlot Marketing, Inc.